×
Book Direct & Save
Book Now
Welcome to
Brookings Inn Resort
Take a break from the hustle and bustle of everyday life and breathe in the salty sea air when you stay at Brookings Inn Resort, located in the heart of Brookings, OR. This lively and colorful town is famous for its rugged beaches, hidden dunes, seaside cliffs, and rare wildlife. What's more? It offers unmatched tranquility. Whether you're looking to hike, bike, swim, or boat, our hotel in Brookings, OR, is a must-visit for all outdoorsy types!
Welcome to The Brookings Inn Resort, featuring a quaint charm, clean rooms, and a great guest experience. Each of our guestrooms is equipped with modern amenities, including air temperature controls, high-speed WiFi, and coffee-making facilities. What's even better is that our Brookings, OR, hotel's property offers a heated indoor pool, an outdoor hot tub, free parking, pet-friendly rooms, and an around-the-clock front desk. Featuring great rooms, excellent convenience, and professional staff ready to assist you, we'd like to be your home away from home in the Brookings area.
Our hotel near the beach in Brookings is ideally located. The Brookings Inn Resort is a quick three-minute drive to Harris Beach State Park and less than a mile away from the center of Brookings, Oregon. Cafés, restaurants, bars, and more are a short driving distance away. You can't visit our beautiful city, without checking out its top sites and attractions. Luckily, we're within proximity to Azalea Park, Samuel H. Boardman State Scenic Corridor, Whaleshead Beach, Thomas Creek Bridge, and Salmon Run Golf Course.
Our Amenities
Complimentary Wifi
No-Smooking-Rooms
Pet Friendly Hotel
Indoor Pool
Complimentary Parking
Homelike Amenities For A Relaxing Stay
All guest rooms are equipped with convenient amenities to make your stay ultra-comfortable. The Brooking Inn Resort offers heating and air conditioning for selecting temperature, iron, and ironing boards for a more secure guest experience. Our family-friendly hotel in Brookings provides a cozy atmosphere for our guests with our pet-friendly policy, daily housekeeping, and a 24-hour front desk ready for assistance. Enjoy warm hospitality when you stay at Brookings Inn Resort.
Brookings,
Oregeon
Attractions
Wander through Mesmerizing Destinations of Brookings
Explore the fascinating attractions in Brookings, OR, ranging from beautiful beaches to dense redwood forests. Find yourself strolling the well-known Harris beach right around the corner. Spend an exciting time with your family by taking a glimpse at the Crissey Field State Park within 11 minutes walking distance from the hotel. Have a feast at restaurants, including Khun Thai and more. Then, experience the atmosphere and culture by visiting the Semi Aquatic. You can discover so many fabulous things to do in Brookings, Oregon!
What Our Guests Have To Say
We had a quick check-in on the first day of our 3-day stay. The place is ideal for a family vacation for a short duration. My kids loved the swimming pool and the helpful advice given by staff members was lovely. I would definitely recommend this place to my family and friends.
My husband and I booked a quick getaway trip to Brookings Inn and had the most fabulous weekend. We loved that we were able to bring our dog along for the trip and had a nice relaxing time in the amazing pool. The staff members were friendly and gave us great suggestions on where to go to see the best nearby attractions. I would definitely stay here again!
Contact Us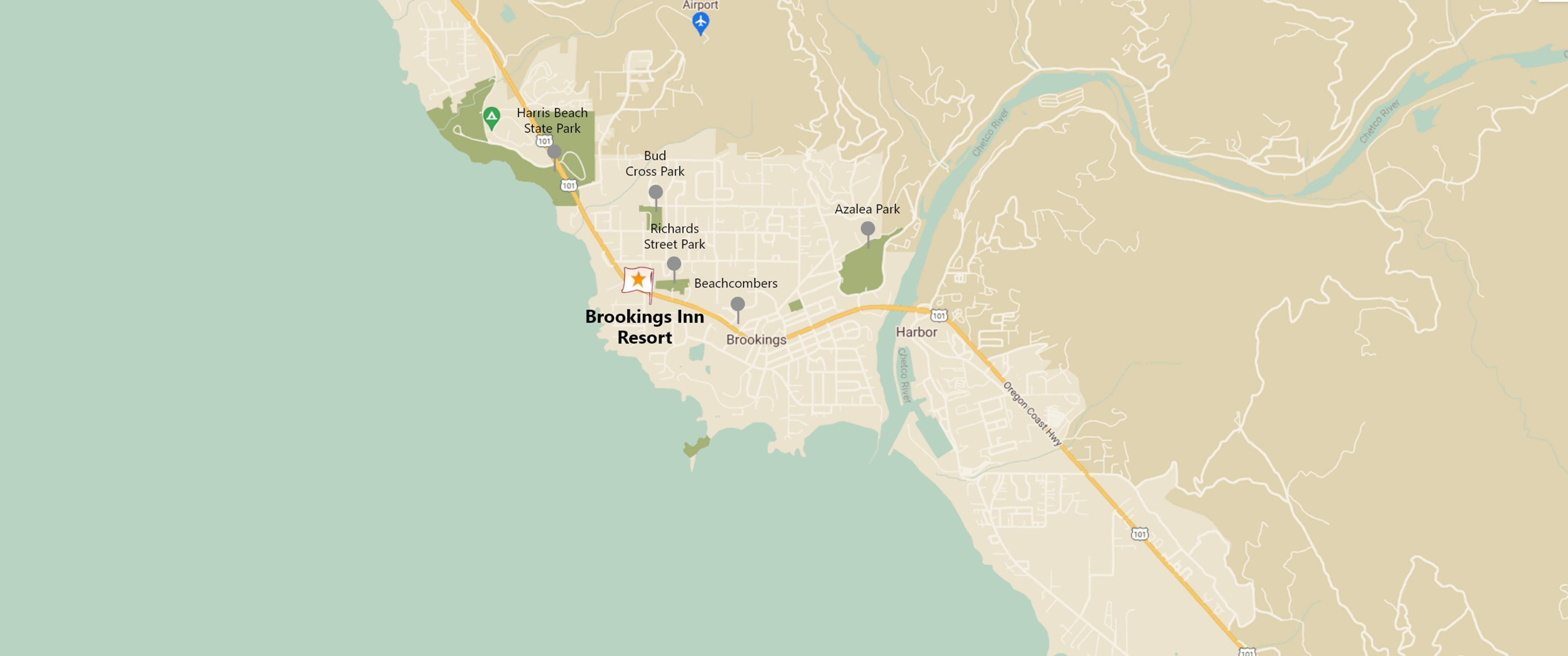 1143 Chetco Ave
Brookings, Oregon 97415
(541) 813-1444
brookingsinn@gmail.com